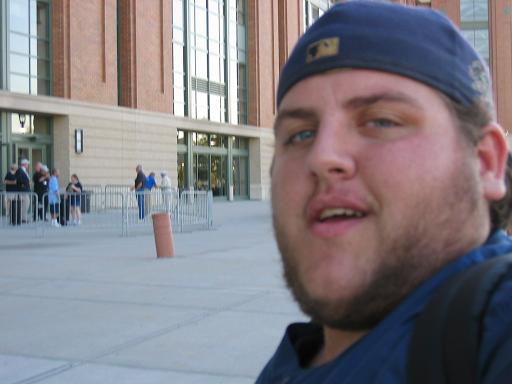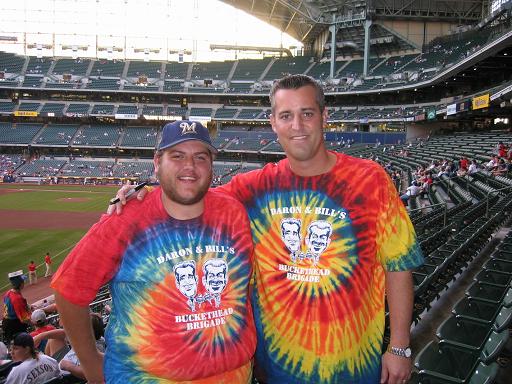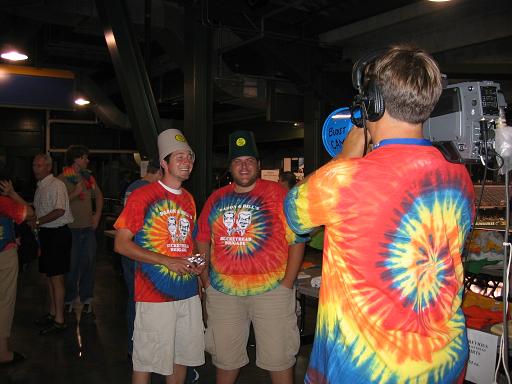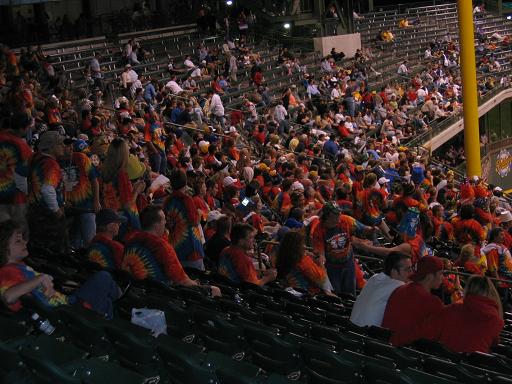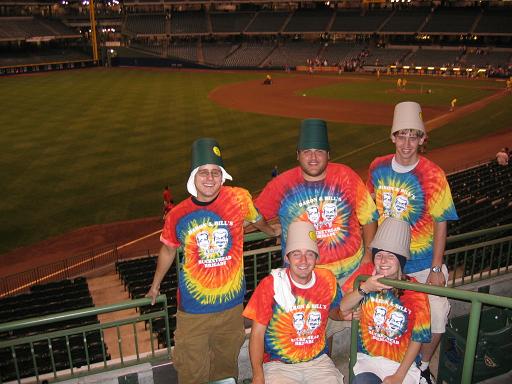 One of my dreams this entire year was to sit in the Buckethead Brigade and be one of the extreme fans. For those of you who don't know, the Bucketheads were started by Bill Schroeder and Daron Sutton, the TV announcers for the Brewers. The Buckethead section is in the left field corner, in the section before the bleachers. Every Tuesday night home game, The Bucketheads unite to cheer on their team. You need to purchase a ticket for the section, and then you get a t-shirt and the chance to get rowdy with Milwaukee's most extreme fans. It is truly an experience that every baseball fan should try, and it certainly was the highlight of my tenure at the stadium this year.
I left right from work to meet the friends at Miller Park. I wanted to get there soon enough so that I could possibly catch a baseball during batting practice. In all of the years that I've been to Brewers games, I've never caught a fly ball, except for the one that hit me in the head.
Daron Sutton came out to greet his fans and faithful Brewers supporters. Bill Schroeder came out later, but I didn't get a picture with him. But Daron was kind enough to pose with me for a minute, which I thought was awesome. Always good to pose with a celebrity.
Mike and I got to be on TV because they liked our buckets (which Mike bought and were actually flower pots.) They zoomed in on me and I smiled and gave a thumbs up, not realizing that the TV broadcast is shown in the hallway outside of the kitchen where I work, and also not realizing that my boss would see it and realize I wasn't at class because I asked off of work to be there.
These are the faithful many who keep on coming back to Tuesday night home games and sit in this infamous Buckethead section. These people are came here to have a great time, and the Brewers did not disappoint that night, winning the first game in over 14 tries (they had a 13-game loosing streak going into this game.) Yeah Brewers!
Darron and Bill are huge supporters of the Brewers cause, and they even wear their ultra cool Buckethead shirts in the broadcast booth during the game. They even stood up and bowed down to use when we started chanting "Bill and Darron" (clap clap clap clap clap.)
The five of us posed at the end of the game and sported our fantastic Buckethead shirts, as well as our crazy flowerpot buckets. I'll introduce each member as soon as you check out the two videos then move on to the final page.