Aaron C. Spiering - UWM's Poster Child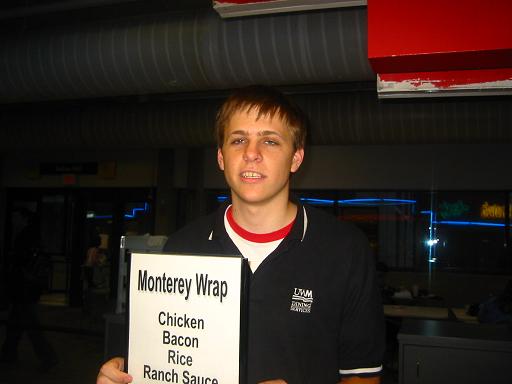 Aaron complained about the fact that he wasn't on my website. Big deal. A lot of the people who come here aren't on my website. But he did bring up an interesting argument - he is my room mate. That alone should guarantee him a place on this site, for my family members and friends already are featured quite prominently. This page would've happened much sooner, if he chose to come over and Godsplash this past summer. That goes for all of you not featured. If you really want to be on my website, Godsplash is the perfect way to do so, for every Godsplash is documented thoroughly by multiple photographs. So Godsplash or do what Aaron did to get on this website; come up with some grand idea that'll set you apart, in his case - dressing up in a UWM Panther suit and messing around.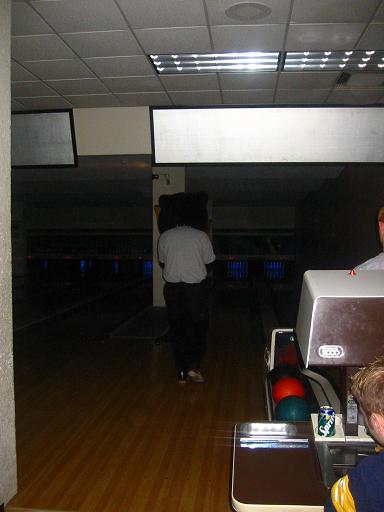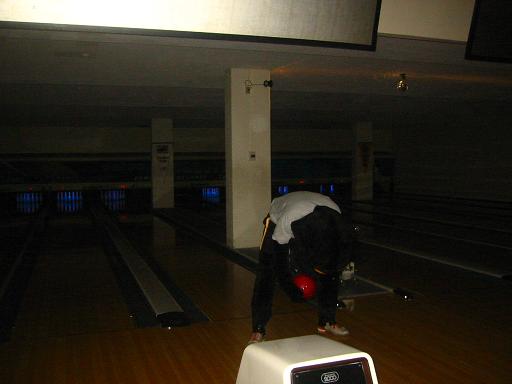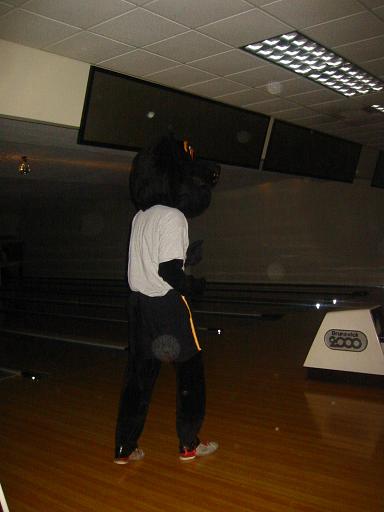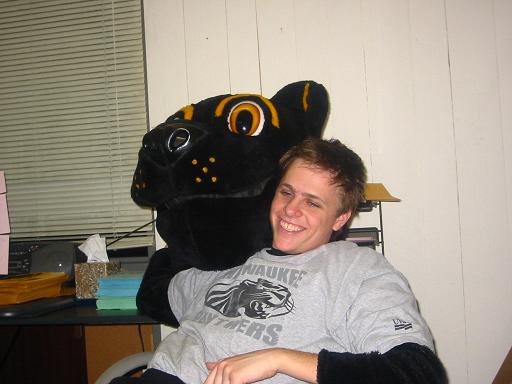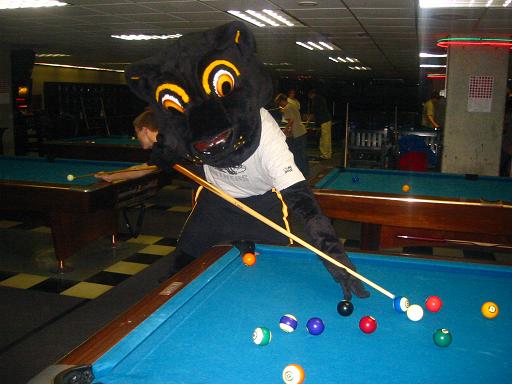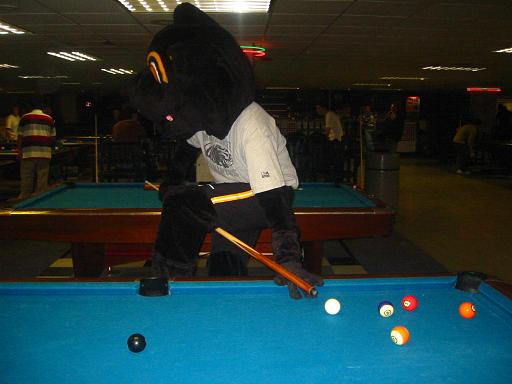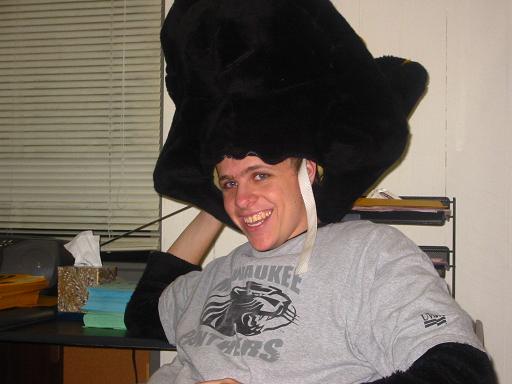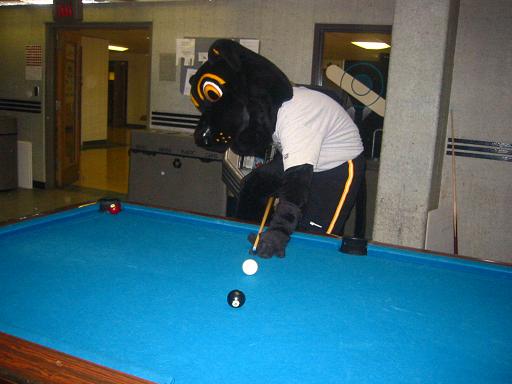 You see, Aaron not only represents UWM as a dining service employee working at Pacific Wraps at the Union, but is also the school's mascot, Victor E. He been the Panther for 4 years now, making appearances at the basketball games, public relations events, and miscellaneous events around campus. One of these events was a free bowling and billiards night, of which I attended just to see the master at work. Aaron was quite charming as the Panther, meeting and greeting, shaking hands, even taking time to bowl a couple of frames. But he did it all with a grand sense of style and humor, filling the people in attendance with glee.
There are several people who don the Victor E. Panther suit, but Aaron comes with the best reputation. People recognize him (in the suit) as the tall skinny guy. The reason that I think Aaron is the best because he goes out there and gives the people what they want, and never thinks for one second about himself. He's funny, goofy, and friendly. Just watching him go around and mess with people is hilarious.
So he stepped up to the lane to bowl a couple of frames. The gloves did not allow him to put his fingers in the holes of the bowling ball, so he just held it in his palm. He ended up putting a wicked spin on the ball, and in one frame, picked up a few pins to score a spare. It is simply stunning to see a panther bowl, but wicked awesome to see a panther rejoice after a well thrown spare pickup.
I had absolutely no reason to be down there while this whole escapade was occurring, but something told me I should be there to witness this display. I did have one request though, to play the panther in a game of pool. So we put on a segment of the Fox special Man vs. Beast forgot to air: the long awaited match of wits between a man and a panther in the ultimate billiards game.
Now who would've thought that a panther would have tricks up its sleeve. Who ever knew that a panther had sleeves, but this guy had more tricks than a used car salesman. He didn't just beat me in pool, he beat me while looking "cool". He tore every page out of the billiards book and rewrote he entire thing. From the behind-the-back shot to the under-the-leg-while-holding-the-cue-the-wrong-way-without-looking shot. See, I really don't mind all that trickery, since I'm not that good at pool, but the thing that got me was the under-the-leg shot for the win, as he managed to get the 8 ball in the side pocket.
The panther unmasked! That innocent smile beneath the cool and collected mask says it all. This is a guy who embodies the very spirit of all that UWM has to offer. But he is more than that, he's my friend, my buddy, my room mate. Yes, the great Aaron C. Spiering is definitely one of a kind. He's got what it takes to put on a suit and run around the room messing around with people and hyping up the crowd at basketball games.
And that my loyal website viewers, is why Mr. Spiering is the candidate for this year's UWM poster child, and believe me, if there were such an award, the result would be unanimous. So stand up Aaron, and accept your award. But never forget that it was this lone soul who decided to publish your shenanigans on the one and only pookon.com, gaining for you world-wide respect and notoriety, So if there's a cash reward, I better get my share.