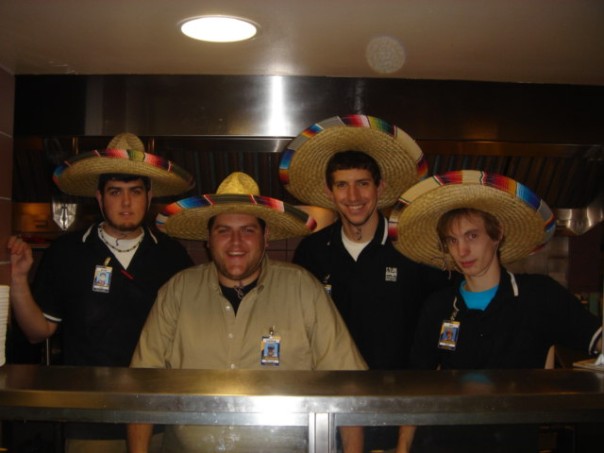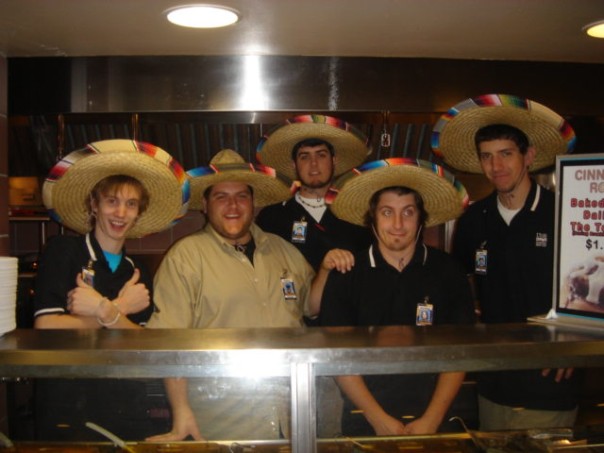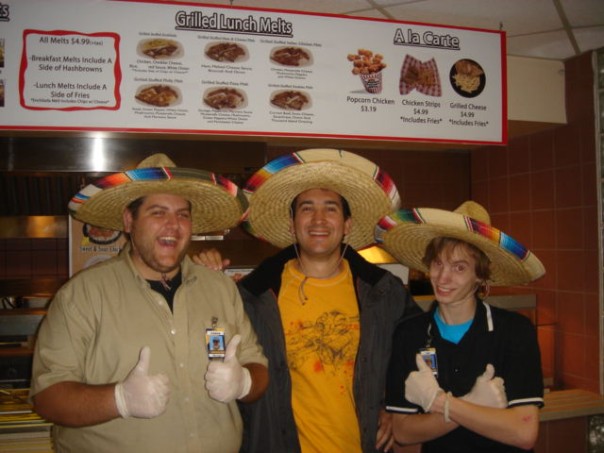 Mexican Hat Day in the Terrace
We know how to throw down in the Terrace. It's our 2nd rule (after following procedure) and the thing that we do most often at work. "Throwing down" can mean many things, such as working really hard, eating food, insulting someone resulting in a burn, and goofing around and causing mischief. It's an all encompassing slogan that we live by not only when we are clocked in, but also as we interact with each other. The core members of Iceman's Grilled Stuffed Paradice (from left to right Ryan, Me, Salmon and Jay) wore sombreros for Taco Bar day. More on that below...
Every day in the Terrace, we have a featured special. Usually it is something normal, something that you wouldn't mind eating, but some days our boss Pyong puts together some random stuff and calls it Beefy Mac. There's a few odd specilas, but our best are arguably most popular is the Taco Salad Bar. You get one of those fried tortilla bowls and your choice of chicken or beer, then help yourself to the toppings. We decided to were sombreros to set the mood, and along with some festive music, provided our customers with the true Taco Bar experience. Balkman (the one to my left) is my boss and whole heartedly supports everything that I do, so we were allowed to do this for today.
We were worried that wearing these hats would be viewed as being insensitive to the Mexican culture, but the cultural experts of the Terrace allowed it. We consider the Terrace to be the melting pot of Restaurant Operations. We have young and old, male and female, people of several different ethnic backgrounds, big and small, short and tall; you name it we got it in the Terrace. Sergio (in between me and Jay) is my Columbian brother. His accent sounds like the Count and he works harder than most people I know (like Jay.)