Packers vs. Saints Game (October 9, 2005)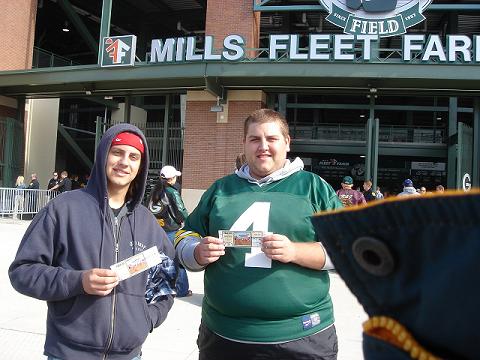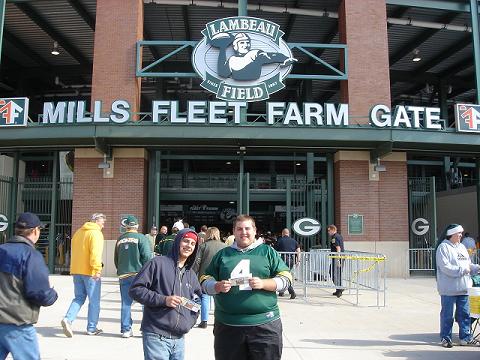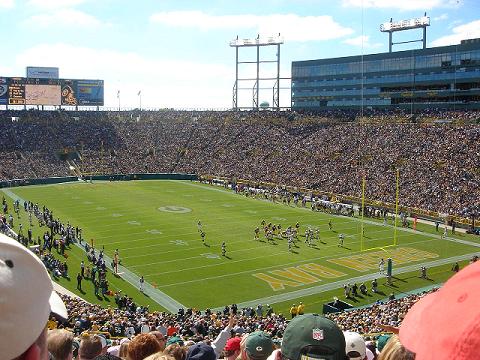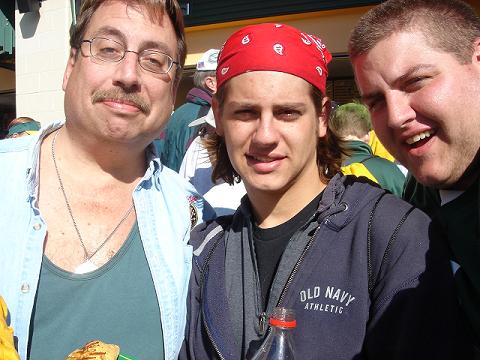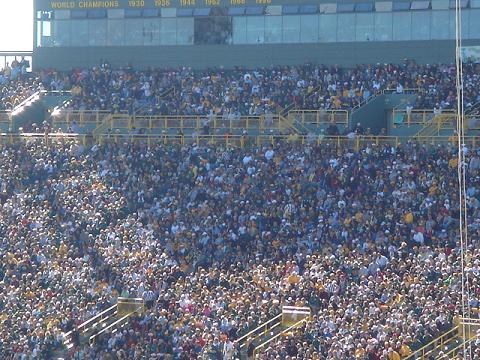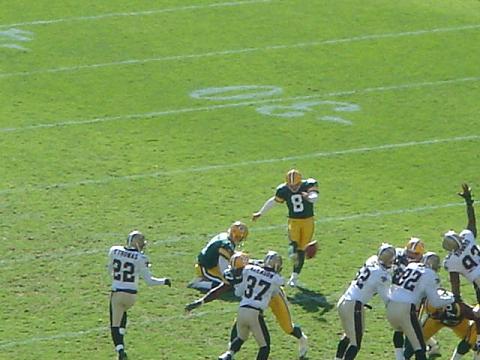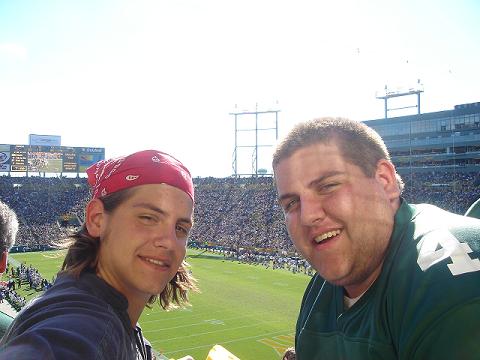 1 week before this game, I suggested to my Dad that we try to buy tickets for the Saints/Packers game. We figured it would be easy. At the time, the displaced Saints were 2-2 and the Packers were 0-4, with all of them being disappointing losses. Tim and I had a little fun the night before, so we both were tired. Tim found this unopened beer on someone's bumper, and against my body's protest, I drank my free beer. After wandering around for about a 1/2 hour, we were able to find tickets.
It's amazing how loyal Packer fans are, even when the team is at an all-time worst. Interestingly enough, these tickets were hard to come by and we purchased them from Saints fans and had to sit with them in the visitors section. They only had 2 available, so we weren't able to sit by my Dad, but he promised that he'd get in there somehow and that we'd meet up at halftime. Tim and I took the tickets (which he bought for us, thanks!) and rolled on into historic Lambeau Field. The picture on the right was during halftime. My Dad walked up to the ticket counter and asked for a single ticket, and they sold one to him. It's that easy ladies and gentlemen. But try to get 2 tickets and you'll probably laugh at you and tell you to sign your name on the list and come back in 70 years.
This is the view of the field from our seats. Not too shabby, if you ask me. Now I'll be honest and say that this is only the 2nd time I've ever been to a Packer game, but I think that I have enough knowledge to make the claim that there's not a bad seat in the house. And that's no lie my friend.
You'd have to be a Where's Waldo world champion to be able to locate my Dad in the crowd over there. This was the relative direction where his seats were located, but I don't know the section, row or seat numbers. I only know that he's somewhere out there, out where dreams come true.
Some sports nut out there might harass and/or correct me on this, but I believe that Ryan Longwell is the Packers all time leading scorer. Think about it, how often do the Packers get shut out? Even if they play like crap, he at least makes a field goal or kicks an extra point. And since he's been with the team for at least 5-7 years, I think it's the truth.
Since the Packers clearly wanted this victory (they eventually won the game 52-3) we kind of lost interest in what was going on on the field. Not to say that we weren't excited about the forthcoming 1st win of the season, but since we blew them away, it wasn't very exciting. As of now (Dec. 23, 2005 when they are 3-11) I'd take this game any day.