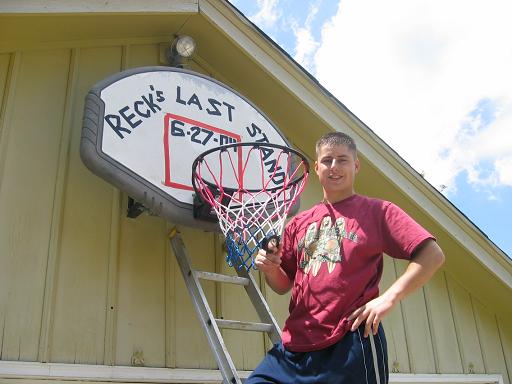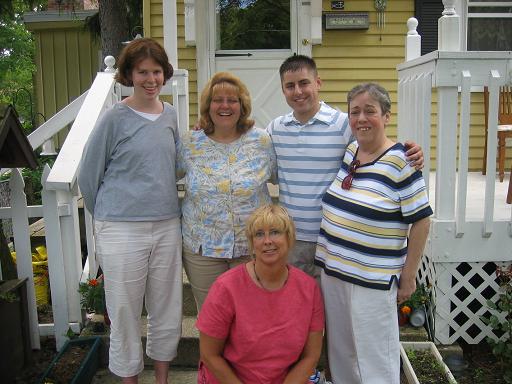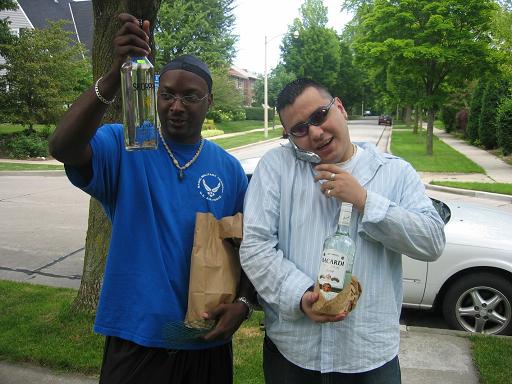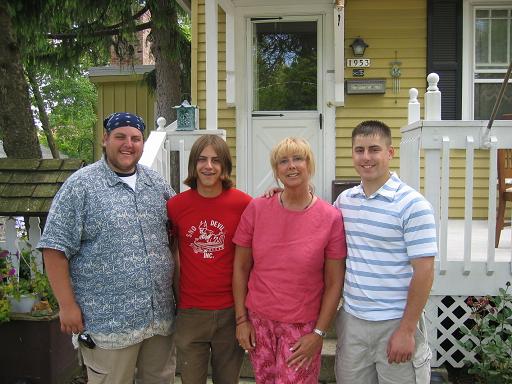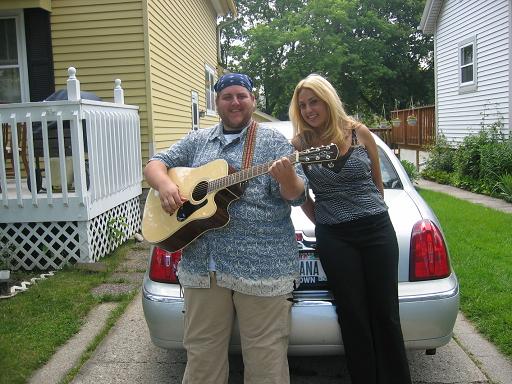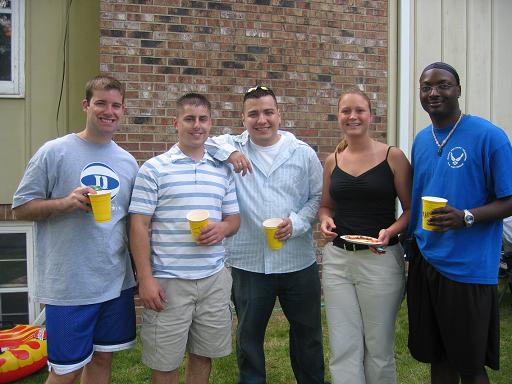 We had a party for Tim, who successfully completed high school despite his busy schedule. Pretty much everyone who's ever known him (from family and friends to former teachers) and we all had a blast. Tim's party was divided into 4 parts, three of which I took pictures of. First there was the party, then the rock concert, followed by the Godsplash and then the aftermath.
We labeled this party "Reck's Last Stand" because this could possibly be the last big party at this house. If you don't already know, my Mom is selling her house, so as soon as it sells, we have to move out. As of August 2004, we still own it, so there could be another big party there. We didn't know, so we had a crazy good time.
2 of these people you should already know - my Mom Kris (top row 2nd from left) and brother James (top row 2nd from right) but the other 3 should be a mystery to you. On the top left is Ms. Seum, one of Tim's teachers from grade school. On the top right is Ms. Hein, another of Tim's grade school teacher. On the bottom is Carol. She's been a friend of the family for too many years to count now.
James invited his posse over, which was ok by my Mom because she considers most of them family. Issac (left) and Fernando (right) came prepared for a different kind of party. Issac bought a bottle of vodka that had a dead scorpion in the bottle. I know what you're thinking - ewww gross.
It had been a while since we've seen Carol, so we needed to get a picture with her. She considers us "her boys" and we were happy to hang out with one of our other Mom's. We used to baby-sit her son Kyle every day before and after school, so our families grew quite fond of one another. Times have changed, but we remain the same.
From left to right - Jeremy, James, Fernando, Janika, and Issac. This rowdy bunch were starting early and as it turns out, would not quit until the wee hours of the night. These five are some of the greatest people I've ever had the pleasure of partying with. Hooray for us!
I strolled through the party like one of those guys who strolls around and serenades people with their voice and a guitar. If you know what they're called, please let me know. Susie and I sang the Uncle Greg verse of Mary Jane's Last Dance. For an explanation and the video, check out the next page...