I've been meaning to put these pictures on here for quite a while now. Some were taken earlier in the year (like February or March), with some as recent as October. As you may or may not know, I worked at Miller Park over the summer, and was there for nearly every home game, including the All Star game. Despite spending that much time there, I still am fascinated by the Ballpark itself, and took many pictures of it. So, you are finally able to see the silliness that I was involved in when it came to my other job.

Me and my Dad, during one of the many lunches down at Front Row Friday's, the best damn restaurant in the city, which combines my two favorite things, baseball and food.
Me and Tim, on a separate trip to Friday's. I think this was the time where I found out about the Sportservice Job Fair, where I earned the right to work at Miller Park for the 2002 Season.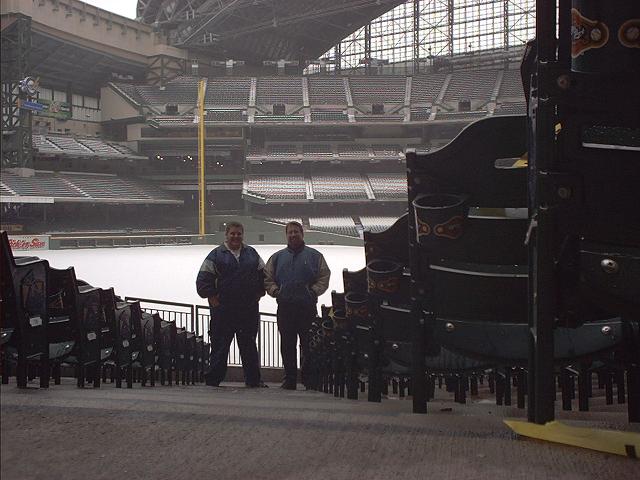 Me on a sunny day, minutes before I was supposed to clock in for work. No matter what, I always have time to snap a quick picture for your viewing pleasure. It's days like this that it was so great just to go to work and enjoy one of America's long forgotten pleasures - seeing your local baseball team being mercilessly defeated... again.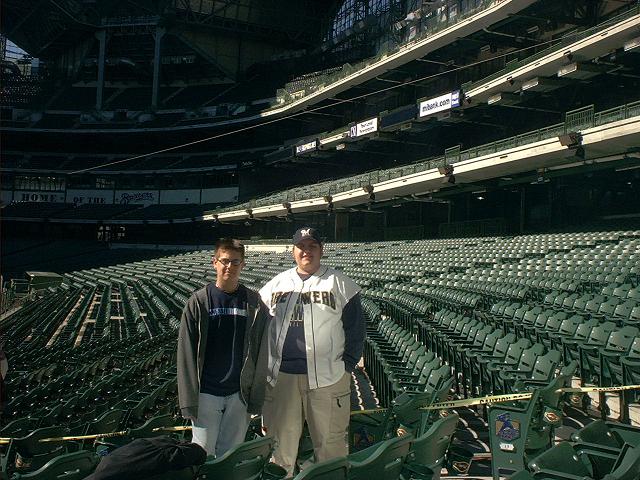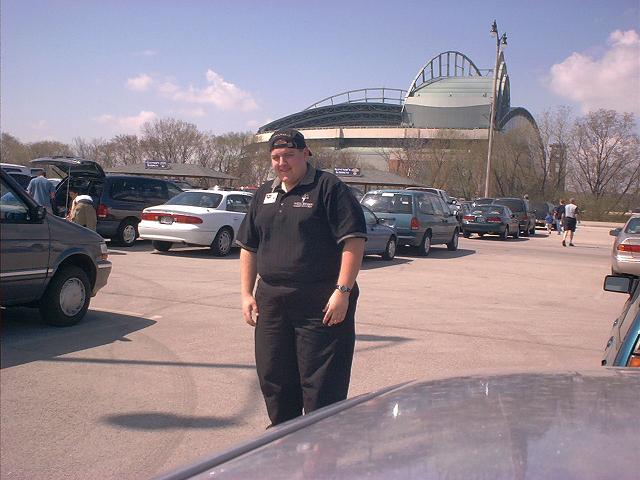 One of my favorite things about attending night games, especially near the end of the season, was that every game was preceded by a beautiful sunset. There was a magnificent one almost every day, and I only managed to capture a small few on camera, but they all were just wonderful that they just made my heart melt. Ok, so that's my lame attempt at trying to be sensitive and heartfelt.
Don't remember when I took this, but judging by the lights and cars, a game must have been in progress. Weird thing being is that I don't park in that part of the parking lot. Hmmm...
One of my favorite pictures ever taken of the stadium, this one was my desktop image for quite some time. I really like the reflection of the pale blue sky in the windows. A soft and rounded picture such as this reminded me just why I chose to work there.